Titan 3D

LS/SPRING
Titan 3D Original Spring Leafy Suit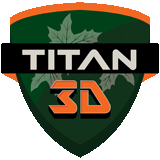 Model: LS/SPRING
Available in 3 sizes.
Select Models
Leafy Suit in Spring Color
This is a 2 piece Leafy Suit with an included zippered carry bag.
Jacket - Has snaps so it is fast and easy to put on and take off. Has an attached hood with draw cords.
Pants - Have elastic cuffs, elastic waist, and a locking draw cord to secure around your waist.
Features
• Size Waist Chest
• S/M 26 - 38" 50"
• L/XL 32 - 42" 60"
• 2XL/3XL 36 - 48" 70"
Select Models